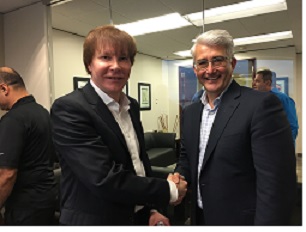 Many MDK Law business clients took advantage of the chance to meet with Washington Gubernatorial candidate Bill Bryant, the current Secretary of State Kim Wyman, and influential State Senator for Bellevue and Mercer Island Steve Litzow.  The meet and greet and reception was held at MDK Law's offices on Thursday October 27.      Also in attendance was Chad Magendanz, 5th District Representative.
MDK Law business clients were afforded an ample amount of time to personally discuss matters of concern with Bill Bryant, who then gave an impassioned speech about his future vision for Washington.  Bill also offered a glimpse of how he will govern to the enthusiastic crowd.
Mark Kimball and MDK Law hosted and sponsored the event as a relaxed and intimate opportunity for its business clients to discuss their concerns with several influential and significant public figures.