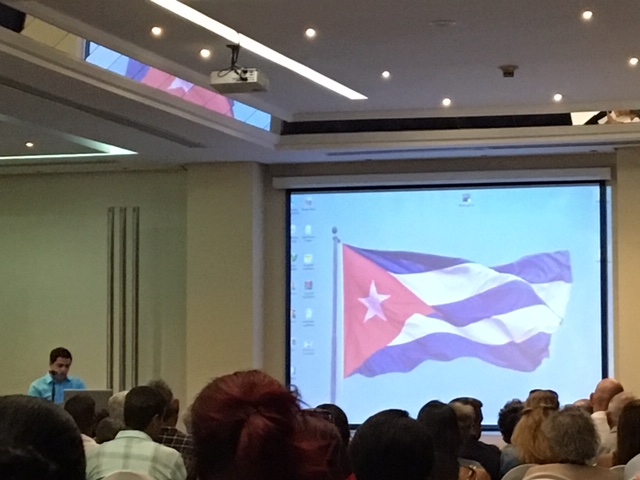 Mark Kimball, President and founding member of MDK Law in Bellevue, Washington, has returned from his second presentation at a legal/law conference in Havana, Cuba. The first conference, several years ago, was sponsored by the Union Nacional Juristas de Cuba, similar in form to a United States bar association. The members and other participants at that event and the more recent event consisted primarily of judges (juristas) and attorneys (abogados), as well as faculty members affiliated with the University of Havana Faculty of Law, and judges and attorneys from many other Latin American countries.
The June, 2019 conference was also sponsored jointly by the UNJC and by the University of Havana Faculty of Law.
Since 2003, Mark has been involved in research and publication through a variety of U.S. Political Science organizations, usually involving the relationship between the development of formal-legal policy and political science theoretical models, most commonly Historical Institutionalism. Mark has established close working relationships with many professors at several European law faculties and the Faculty of Law at the University of Havana. Since 2003, Mark also counts as a colleague and source, one of the Vice Presidents of the UNJC in Havana.
Mark's recent paper, published at the Conference, examined the recent commercial and property law reforms embodied in the new Cuban Constitution under the first post-Castro President and former economist Miguel Diaz-Canal. Although a more detailed discussion of the subject of the paper will be posted subsequently on the www.mdklaw.com website Blog, at the Conference Mark asserted as his thesis that the theoretical modelling and heuristics of Historical Institutionalism could not only be applied to socialist economic, political and legal systems but that the results of such modelling could yield critical information for multinational companies and companies looking at investment in foreign states, including but not limited to Cuba and other socialist economies.
More generally, Mark was recently elevated to the status of Congress Fellow in the Austrian-based nonprofit organization Center for International Legal Studies, has taught American Corporate and Business Law five times at different universities affiliated with the European Union's Erasmus program, and heads the Corporate, Real Estate, Tax and International Law practice areas at MDK Law, an eight-attorney, twelve-employee firm located in Bellevue, Washington. Mark holds two undergraduate degrees, a Juris Doctor degree, and a post-doctoral LL.M. degree in Tax Law from the University of Washington, and a second post-doctoral LL.M. degree in Transnational Commercial Practice from a joint academic partnership between Boston University's law school and two universities located in the European Union.