James P. Ware
Shareholder James P. Ware represents clients in complex litigation, before appellate courts, and in challenges to federal and state tax assessments before Washington's Department of Revenue, the Board of Tax Appeals, and the United States Tax Court.  His clientele generally consists of business owners and their companies in a variety of industries, ranging from moving companies to technology firms.
With nearly a decade of legal experience, James's practice includes a wide range of legal issues that businesses and their owners confront.  James believes that his role as an advocate is to focus on his clients' goals and develop a strategy aimed at achieving those goals in a cost-efficient and timely manner.
In addition to his litigation experience, James has also obtained favorable results in numerous appeals before Washington's Court of Appeals, the Washington State Board of Tax Appeals, and Washington's Department of Revenue, Appeals Division.
Personal
James is originally from Colorado where he developed a love for the outdoors, music, and cycling. In his personal time James enjoys hiking, riding bikes, and occasionally playing his French horn with local community symphonies.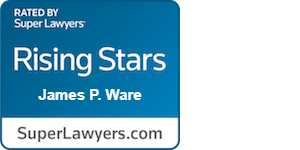 Education
J.D. – University of Denver, Sturm College of Law (2005)

Sports and Entertainment Law Journal

B.A. – University of Colorado, Boulder, Economics and Music (2002)
Admissions
Washington (All State Courts)
U.S. District Court, Eastern and Western District of Washington
Associations & Memberships
Publications & Speaking Engagements
Honors & Awards
Representative Matters
Representative Trial Court Matters
Obtained a million plus dollar settlement against Washington State and a school district for the wrongful death of a five-year old child in foster care.
Obtained a judgment for a real estate agent and develop for a complete refunds of a $50,000.00 earnest money deposit and award of attorney fees on a trial de novo.
Obtained judgment against the creator of an EB-5 Regional Facility for violation of the Washington State Security Act. On summary judgment, Mr. Ware was able to show that the creator of the investment scheme made material misrepresentation in the Private Placement Memorandum for the Project and that the investor's reliance on those misrepresentations was reasonable.  The total judgment amount exceeded $750,000.00.
Successfully obtained a defense verdict in an LLC member dispute in which the plaintiffs sought contribution and indemnification from MDK Law's clients for two failed liquor store ventures. The plaintiffs in this action sought approximately $300,000.00 in contribution and sought indemnification for a potential liability of over $600,000.00.
Obtained a $300,000.00+ judgment through summary judgment for an international fishing rod manufacturer against a Texas based retailer for breach of the parties' contract and breach of the owner's personal guaranty.
Successfully defended a 25,000-employee international technology company from unpaid commissions claims. The ultimate award of damages was approximately 1/3 of what the client had offered at mediation.
Obtained a dismissal of an assessment by Washington's Department of Revenue against a Kirkland based national moving company for its purported failure to collect retail sales tax on packing equipment. After James submitted his brief to the Board of Tax Appeals, the Department stipulated to a dismissal of the assessment.
Successfully litigated reversal of a $160,000.00 DOR assessment before the Board of Tax Appeals for an online hookah and shisha tobacco wholesaler for purported unpaid Other Tobacco Products ("OTP") tax.
Successfully prosecuted at trial a derivative action against the majority member of an LLC for various self-dealings and mismanagement of LLC funds. In the judgment the trial court found that the majority member of the LLC was not entitled to any of the assets of the LLC upon judicial dissolution because it was proven at trial that his capital account was negative.
Representative Appellate Court Matters
Yaron v. Conley, 17 Wn. App. 2d 815, 488 P.3d 855 (2021)(published)
Davis v. Wash. State Dep't of Soc. & Health Servs.

, 773 F. App'x 367 (9th Cir. 2019)

Liu v. Great Ocean Capital Holding, LLC

, No. 76576-1-I, 2018 Wash. App. LEXIS 2327 (Ct. App. Oct. 15, 2018)

Ryan & Wages, LLC v. Wages

, No. 68253-9-I, 2013 Wash. App. LEXIS 611 (Ct. App. Mar. 18, 2013)

GLV Int'l, Inc. v. Am. Rodsmiths, Inc.

, No. 67956-2-I, 2013 Wash. App. LEXIS 123 (Ct. App. Jan. 22, 2013)

Murphey v. Charles D. Grass, CPA & Assocs., PS, 164 Wn. App. 584, 267 P.3d 376 (2011)(published)
Hoss Mortg. Inv'rs, Inc. v. Senator, LLC, No. 37960-1-II, 2010 Wash. App. LEXIS 389 (Ct. App. Mar. 2, 2010)